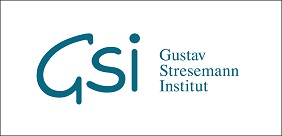 Europäische Tagungs- und Bildungsstätte Bonn
Langer Grabenweg 68
D-53175 Bonn-Bad Godesberg
Tel.: +49 (0)228 / 8107 – 0
Fax: +49 (0)228 / 8107 – 197
E-mail: info@gsi-bonn.de
Internet: www.gsi-bonn.de
The Gustav Stresemann Institute's European Conference & Training Centre in Bonn is an independent, non-partisan and charitable institution for political education.
In this capacity, accredited by the Land of North Rhine-Westphalia, the Gustav Stresemann Institute organizes conferences, symposia, workshops and seminars on a wide-ranging spectrum of topics.
The objectives of our educational work include:
preparing people from all age groups for the 21st century's knowledge society with varied proposals for lifelong learning,
promoting European unification and expansion as well as international cooperation,
bringing together people from various occupational, social and socio-political groups from Germany, Europe and other continents,
improving critical judgement and strengthening a democratic sense of responsibility,
exchanging opinions on social and political themes.
FOCUS AREAS OF OUR EDUCATIONAL EVENTS:
European policy
Deepening and expansion of the EU
Current European foreign, domestic, economic and finance policy
The role of Europe in the world
International cooperation
North-South issues / development policy
Franco-German and intercultural relations
Current economic and socio-political themes:
– Structural change, information and media society
– Migration and integration
EU projects in support of democracy and human rights
Youth projects to promote social participation and improve communication and conflict skills