Media Prize
Jean Asselborn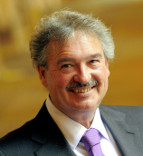 The Foreign Minister of Luxembourg, Jean Asselborn, is honoured with the 2016 Franco-German Media Prize for his engagement for European integration. Jean Asselborn has acquired great prestige as a mediator between the large and smaller nations within the EU and on an international level. As an honest intermediary for Europe's essential values, he is warning against the relapse into nationalisms and interventions in the freedom of the press and opinion on a European level. Jean Asselborn is the first winner of the Franco-German Media Prize to come neither from France nor Germany.

Christian Dassel (Ⓒ private)

Clements Gersch (Ⓒ private)
The Video Prize is awarded to Christian Dassel and Clemens Gersch for "#jesuischarlie: A Hashtag and its Consequences", shown by Westdeutscher Rundfunk.
"#jesuischarlie" strikingly outlines the role of social networks in coming to terms and mourning after 7 January 2015, and lends visibility to the authors behind the hashtag. The film stands out by its combination of the two media television and internet.

Pascale Dervieux (Ⓒ private)
The Audio Prize is awarded to Pascal Dervieux's "Immigration in Germany: The Turning Point?", broadcast by France Inter.
The reportage by Pascal Dervieux provides its listeners with an in-depth look at immigration issues in Germany. With the diversity of his interview partners, he draws the picture of an uneasy country looking for answers in the face of large immigration figures.

The prize in the Text Contribution category is awarded to Leo Klimm for his article "Executive Chefs" in Capital.
A culinary masterpiece in every respect. Using "haute cuisine" as a vehicle, Leo Klimm has succeeded in introducing the reader to a part of French corporate culture. The author throws the doors to exclusive and elitist places, an unknown world even in France, wide open, and provides insights into the interplay between economic and culinary customs.
Multimedia Category
Christian Beetz, Jakob Vicari, Jens-Uwe Grau and Tanja Schmoller
In the Multimedia category, the prize goes to Christian Beetz, Jakob Vicari, Jens-Uwe Grau and Tanja Schmoller for "Falciani's SwissLeaks" (falciani-info.arte.tv).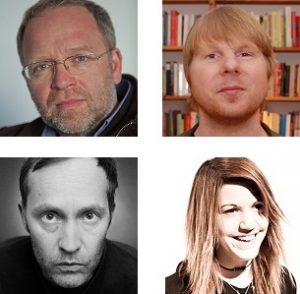 Christian Beetz, Jakob Vicari, Jens-Uwe Grau, Tanja Schmoller (Ⓒ private)
As exciting as a thriller, the "Falciani's SwissLeaks" story-telling project delves into the story of whistle-blower Hervé Falciani, whose revelations shook up Swiss banking secrecy. The reader is stimulated to interact, and thus motivated to stay on to the end.

Laetitia Grevers (Ⓒ private)
With its special and elaborate format, this reportage succeeds in painting a striking emotional picture of the mood in France after the terrorist attacks on Charlie Hebdo. The dialogue form makes the reader feel directly involved.